Veronic Voices Las Vegas Show Tickets
Véronic Voices Show Tickets and Reservations
Véronic Voices Show Review (coming soon)
Véronic Voices Photo Gallery (coming soon)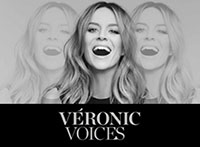 The talented singer/comedian/entertainer Véronic is now captivating audiences at Bally's Hotel and Casino in Las Vegas. Guests will be transported to another dimension of extraordinary entertainment as Véronic displays her amazing repertoire of voices, paying homage to the most popular female recording artists in the world. Prepare yourself to be fascinated by the jaw-dropping impersonations of Adele, Celine, Lady Gaga, Whitney Houston, Pink and Madonna, to name only a few of the fifty voices Véronic is capable of performing.
Hailing from Canada, Véronic has enjoyed great success on the stage with leading roles in "Grease" and "Chicago". She released her debut self-titled French language album in 2002 which garnered numerous industry nominations and awards in both Ontario and Quebec. She appeared at the two most prestigious comedy festivals in 2007, the Just For Laughs Festival in Montreal and the Grand Rire Festival in Quebec, following the release of her second album.
Véronic's unique talent garnered her an invitation from Celine Dion and Rene Angelil to open for Celine during the Taking Chances Tour. She toured Quebec and Ontario through 2008 and 2009, selling out theatres wherever she went and performed her first European show in 2010 in Paris at Theatre de la Gaite Montparnasse. Véronic became a huge prime-time television star in 2012 as a judge on X-Factor France and played to nightly audiences of 5,000 plus at both The Arena in Geneva, and the Forest National in Brussels.
Véronic has brought her talent to the Las Vegas stage for the first time to entertain audiences from around the world.
Location