Two Kings – King of Rock and King of Pop Show Tickets
Two Kings – King of Rock and King of Pop Show Tickets and Reservations
Two Kings – King of Rock and King of Pop Show Review (coming soon)
Two Kings – King of Rock and King of Pop Photo Gallery (coming soon)
Two Kings – King of Rock and King of Pop Streaming Video (coming soon)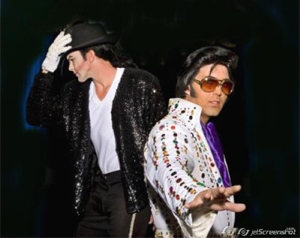 Two Kings is a high-energy tribute show featuring "The King of Pop" impersonator Ice and "The King of Rock" impersonator Charlie Franks as Elvis. 'Billie Jean,' 'Smooth Criminal' and many other Michael Jackson chart toppers will be performed. The deep soulful voice of Charles Franks will make you think the King may not be dead after all. Join Ice and Franks as they reinvent two of the most influential musicians in pop culture.
Location
Rio All-Suite Hotel and Casino
Pricing
Retail price includes any box office fees and Live Entertainment Tax. All tickets are subject to a vendor service fee that varies based on the show and the venue.