Terry Fator – Las Vegas Show Tickets
Terry Fator Show Tickets and Reservations
Terry Fator Photo Gallery (coming soon)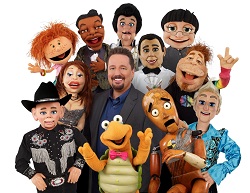 Singer, celebrity impressionist, comedian and ventriloquist, Terry Fator was the winner of NBC's 2007 season of "America's Got Talent" and performs at The Mirage Hotel and Casino in Las Vegas.
In 2014, an updated show, Terry Fator: The VOICE of Entertainment, has Winston the Impersonating Turtle leaving Sin City for big budget movies in sunny California. Fator is now tasked with auditioning a cast of characters to find Winston's replacement. Those auditioning include Vikki "The Cougar," country legend Walter T. Airedale, Duggie Scott Walker, Julius, Emma Taylor, the world's greatest Elvis impersonator Maynard Tompkins and Wrex the Crash Test Dummy.
Fator's unique talent of celebrity impressions through ventriloquism is showcased in Terry Fator: The VOICE of Entertainment. Fator moves flawlessly through the cast while performing songs by LMFAO, Lady Gaga, Tony Bennett, Taylor Swift, Toby Keith and Roy Orbison, among others – he even throws in a little old school doo-wop. A few solo performances find Fator performing songs from his new CD It Starts Tonight including "Live" and "Heroes."
Within the last year, Fator has released a DVD "Terry Fator: Live In Concert," a country music CD "It Starts Tonight," as well as a series of children's books including Lamu, The Christmas Kitten.
Location