Platters, Cornell Gunter's Coasters and The Marvelettes Las Vegas Show Tickets
Platters, Cornell Gunter's Coasters, and The Marvelettes Show Tickets and Reservations
Platters, Cornell Gunter's Coasters, and The Marvelettes Show Review (coming soon)
Platters, Cornell Gunter's Coasters, and The Marvelettes Photo Gallery (coming soon)
Platters, Cornell Gunter's Coasters, and The Marvelettes Streaming Video (coming soon)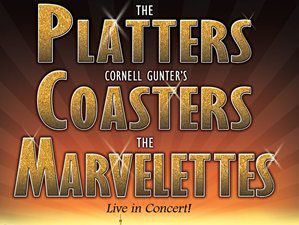 These 3 pioneering groups, known for their electrifying renditions of such rock and roll classics as My Prayer, Yakety Yak, Charlie Brown, Please Mr. Postman, Smoke Gets In Your Eyes and 29 other million selling songs, encompass the entire spectrum of classic rock and roll. The Platters are the consummate purveyors of the power-ballad-love song with enchanting harmonies. The raucous, comedy oriented song stylings of Cornell Gunter Coasters are accompanied by smooth, synchronized choreography while the Motown sound is brought by The Marvelettes, with stirring anthems craftily interwoven with high intensity, upbeat rhythms.
Location
Rio All-Suite Hotel and Casino
Pricing
Retail price includes any box office fees and Live Entertainment Tax. All tickets are subject to a vendor service fee that varies based on the show and the venue.