Performing As Barbra Streisand and Frank Sinatra Show Tickets
Barbra and Frank – The Concert That Never Was Show Tickets and Reservations
Barbra and Frank – The Concert That Never Was Photo Gallery (coming soon)
Barbra and Frank – The Concert That Never Was Streaming Video (coming soon)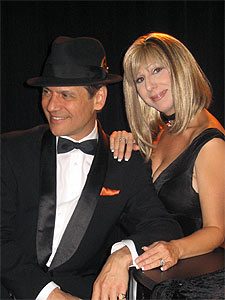 This Show is currently closed.
Barbra Streisand and Frank Sinatra never shared the stage together…until now in Las Vegas. The only time they ever worked together was from seperate recording studios and spliced together on tape. If you've ever wondered how they would have sounded together on a live concert tour, well wonder no more! This fantastic show is known as the "Concert that Never Was." Dressed sharply in a tuxedo and stunning gown, "Frank" and "Barbra" are amazing recreations of the legends. Only in Las Vegas can the impossible become a reality!
Location
Riviera Hotel and Casino
Pricing
Retail price includes any box office fees and Live Entertainment Tax. All tickets are subject to a vendor service fee that varies based on the show and the venue.
Ages
Must be at least 12 years of age.