O – Las Vegas Shows and Show Tickets
"O" by Cirque du Soleil Show Tickets and Reservations
"O" by Cirque du Soleil Photo Gallery (coming soon)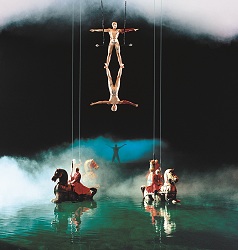 Included on many people's "If you only see one show in Vegas see this one" list, "O" delivers as a classic Cirque production where theater, circus and surrealism combine on a lavish scale with breath-taking results. The title "O" derives from the French word "eau" (pronounced "oh"), meaning "water", the show's central theme — from tiny droplets to torrential downpours.
Beyond circus, beyond theater, Cirque du Soleil has created an entirely original form of live entertainment. "O" pays tribute to the magic of the theater at the Bellagio Las Vegas. Cirque du Soleil's first venture into aquatic theater has been seen by more than 2 million spectators and has earned the acclaim of journalists from around the world.
The Las Vegas Review-Journal recently honored "O" as the best production show for the second year in a row. With an international cast of 81 artists, performing in, on and above a 1.5 million gallon pool of water, "O" by Cirque du Soleil tells the tale of theater through the ages and frees us to embark on a 90-minute voyage where dreams are not only encouraged, they come true.
Location