Nathan Burton Comedy Magic Las Vegas Show Tickets
Nathan Burton Comedy Magic Show Tickets and Reservations
Nathan Burton Comedy Magic Photo Gallery (coming soon)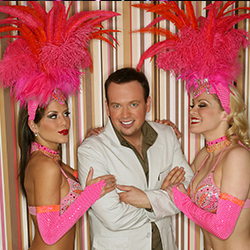 Enjoy an exciting afternoon at the heart of the Strip with Nathan Burton and his unique, fast-paced hybrid of magic and comedy.
Performing magic since the age of 4, Burton has honed his act into a 60-minute whirlwind of unique, in-your-face magical illusions blended with comedy and showgirls, all tied together with Burton's engaging personality.
A veteran Las Vegas performer, Nathan Burton has also achieved nationwide fame for his performances on The Entertainer and America's Got Talent, as well as appearances on VH1's Surreal Life: Fame Games and Miami Ink.
Location