Menopause The Musical Las Vegas Show Tickets
Menopause The Musical Show Tickets and Reservations
Menopause The Musical Photo Gallery (coming soon)
Menopause The Musical Streaming Video (coming soon)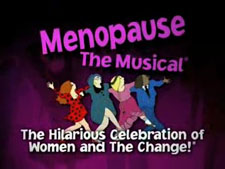 Menopause The Musical® has amused and inspired audiences globally since 2001. Menopause The Musical® is a hilarious show that has launched a women's movement that has superseded entertainment, empowered its audiences and become a must-see event. Inspired by a hot flash and a bottle of wine, writer and producer Jeanie Linders created the show as a celebration of women who are on the brink of, in the middle of, or have survived "The Change." Consisting of parodies from the classic songs of the '60s, '70s and '80s, the show is filled with optimism, connection and laughter.
Menopause The Musical® had its modest debut on March 28, 2001 in a converted perfume shop in downtown Orlando, Fla. After eight years with productions from Toronto to Texas as well as Off-Broadway to Australia, the curtain rises with consistent success. In a city where there are a multitude of shows daily, the Las Vegas Review-Journal declared, "Dollar for dollar, it's the best show in town."
Location:
Pricing:
Retail price includes any box office fees and Live Entertainment Tax. All tickets are subject to a vendor service fee that varies based on the show and the venue.
Ages:
Must be at least 14 or older.