Larry G. Jones: Las Vegas Show Tickets
Larry G. Jones Show Tickets and Reservations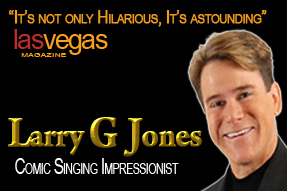 This fast-paced fun filled show features an all-star celebrity cast of rapid-fire voice impressions including many of Las Vegas' biggest headliners. Cher, Elton John, Neil Diamond, Elvis, The Phantom of the Opera, and The Rat Pack are just a small sample of the 75 plus voices Larry performs in each show. When you throw a few comedians, Hollywood celebrities, and presidential voices in the mix, there is enough clean comedy and music to appeal to just about everyone. Raphael Erardy who worked with the late Danny Gans for over 20 years as drummer and collaborator now produces Larry's new highly refined musical comedy show.
Location:
Harmon Theater at Planet Hollywood Hotel and Casino
Pricing:
Retail price includes any box office fees and Live Entertainment Tax. All tickets are subject to a vendor service fee that varies based on the show and the venue.