Improv Comedy Club Best Las Vegas Comedy Show Tickets
Improv at Harrah's Show Tickets and Reservations
Improv at Harrah's Show Review (coming soon)
Improv at Harrah's Photo Gallery (coming soon)
Improv at Harrah's Streaming Video (coming soon)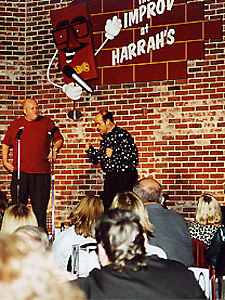 Everyone's a comedian . . . but the funny ones are at The Improv at Harrah's, Voted Best Comedy Club four years in a row! If you're looking for a good laugh, we've got the place for you. The freshest and funniest faces in comedy are showcased at the world-famous Improv Comedy Club at Harrahs Hotel Casino in Las Vegas, Nevada. Three new comedians perform each week at The Improv, creating a show that is always unique and definitely funny.
Location:
Harrah's Hotel and Casino
Pricing:
Retail price includes any box office fees and Live Entertainment Tax. All tickets are subject to a vendor service fee that varies based on the show and the venue.
Ages:
Children under the age of five are not permitted. Under eighteen years old must be accompanied by an adult.