Elton John The Million Dollar Piano Las Vegas Show Tickets
Elton John The Million Dollar Piano Show Tickets and Reservations
Elton John The Million Dollar Piano Photo Gallery (coming soon)
Elton John The Million Dollar Piano Streaming Video (coming soon)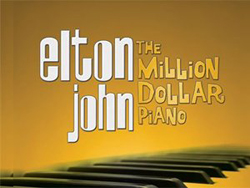 Elton John returns to The Colosseum at Caesars Palace Las Vegas with his new show "The Million Dollar Piano". Elton will be accompanied by his band, which includes Davey Johnstone on guitar, Bob Birch on bass, John Mahon on percussion, Nigel Olsson on drums and Kim Bullard on keyboards with a special appearance by percussionist Ray Cooper. One of the most successful live acts on the road today, attendees can expect an unforgettable show: the entire audience standing, dancing and singing along with much-loved classic songs.
Location:
Caesars Palace Hotel and Casino
Pricing:
Retail price includes any box office fees and Live Entertainment Tax. All tickets are subject to a vendor service fee that varies based on the show and the venue.