Carrot Top best Las Vegas discount shows tickets on sale now.
Carrot Top Show Tickets and Reservations
Carrot Top Photo Gallery (coming soon)
Carrot Top Streaming Video (coming soon)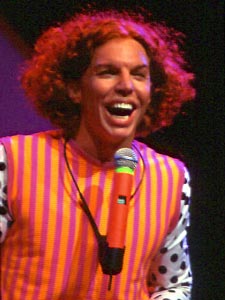 The Luxor Hotel and Casino is the Las Vegas home of Carrot Top, the current king of Prop Comedy. He has six trunks full of his off the wall inventions which make up for majority of his act. His props are quite inventive, often poking fun at current events or celebrities. Even his mane of red hair isn't safe from his comedy, often using two barrettes to show off his uncanny resemblance to the Wendy's girl! He is an internationally recognized performer, known for his many appearances on "The Tonight Show" as well as his 1-800-DIAL-ATT commercials and other countless awards. Come see why Carrot Top has become one of the most popular comics today!
Location:
Luxor Hotel and Casino
Pricing:
Retail price includes any box office fees and Live Entertainment Tax. All tickets are subject to a vendor service fee that varies based on the show and the venue.
Ages:
Must be 18 years or older.