Las Vegas Gambling Tips – Video Slots – Zorroâ"¢
Las Vegas Gambling Tips: Gaming Article
Best Casino Slots – Part 8
By: Victor H. Royer
As promised, in this issue – and the following issues – I will now write a little more about some of the favorite slots that my readers have told me they like to play, and also show you some of the great new slots that are now available in your favorite casino. In this issue, I present Zorro™ Hyperlink Progressive, by Aristocrat, and a short description of the game and how to play it.
---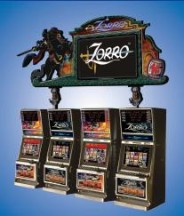 Riches from Behind the Mask!
Cut yourself a swath of rich winnings from this great multi-line slot machine from Aristocrat!
When I was a little boy I remember TV and movie serials featuring the great Mask of Zorro – the hero who always won the day and rescued the fair maiden from the clutches of the terrible terror! And, as he was leaving, he would carve the Big Z into the hide of the villain! Ahh, what thrills they were in those days of youth!
Today, the legend lives on in a penny denomination video slot machine game from one of the most innovative companies in the world, Aristocrat. Originating in Australia, these innovative video games have begun to be called "Australian-style slots" in the industry. And for good reason. With innovations like this, it's no wonder that they are popular with players everywhere, including here in the USA, and in the casinos of the Midwest. Even Las Vegas has many of these games, and the progressive hits very, very often. I have played this game myself, and it is truly great fun.
The Zorroâ"¢ machine is a progressive that has a four-level jackpot, with six bonuses, and four bonus features. The four-level second-screen progressive includes three linked progressive jackpots and a fourth top jackpot with a fixed $50,000 payout, which can be won on any game. All of these jackpots are triggered randomly, and the jackpot level won depends on the accumulated jackpot score you gain by choosing the various symbols. And when you make it into the second-screen feature, you are then guaranteed to win one of the four jackpots. This means that the wins happen very frequently, and you therefore have a great chance of making a good score.
You also have a choice of betting an extra 10-credit ante bet. This "buy-a-pay" feature adds more winning opportunities by giving you the chance to win one of the Zorro™ random bonus awards. You win your way into this bonus round when the letters Z-O-R-R-O are spelled across all the reels – and they do not have to be lined up on any one line. This Zorro™ bonus feature gives you free credits, free games, you choice of options, a match-a-coin feature, as well as bonus multipliers.
Zorro™ and Zorro Unmasked™ are two of the featured base games currently offered. Like Aristocrat's other Hyperlink products, Zorro™ is offered in a complete package that includes themed chairs and bases and visually-stunning signage. The large LCD display also enhances floor presence by celebrating wins and playing full-color story animations of Zorro's™ good deeds and achievements.
The Zorroâ"¢ Hyperlink is available in most tribal and riverboat casinos in the United States, as well as in Las Vegas, and other gaming destinations in major casino centers.
By the way – "The Legend of Zorro" began when author Johnston McCulley first introduced the character in his serialized story "The Curse of Capistrano." The first movie based on the character of Zorro was "The Mark of Zorro", a silent film made in 1920. It proved so popular that one version or another of the story has been filmed for movies or TV ever since, and, well, the rest of the legend and fame of Zorro is history. Now this famed "masked man" hero is bringing his swashbuckling adventures to great new video slots by Aristocrat.
I will write more about this game – and the world of the great new slots – in future issues.
Special Note to Readers of this column.
My friends at the Gambler's Book Shop in Las Vegas asked me to let everyone know that they have a brand new location. This great and iconic landmark of Las Vegas is now located at 1550 E. Tropicana Ave. Ste. 4, Las Vegas, NV 89109. The toll-free phone number is: 800-522-1777. You can also visit their web site at: www.GamblersBook.com
Podcast
I have recently completed a new Podcast. You can listen to it at this link:
http://gamblersbookclub.libsyn.com/
---
Victor H. Royer, known as Vegas Vic, is the author of 42 books. Mostly known for books, articles, and columns on casino games and gambling, he is also the author of New Casino Slots, Great Gamblers: True Stories and Amazing Facts, The Great American Joke Book, as well as his works of Fiction, which include: Another Day, and the Western: Riders on the Wind. Versatile and multitalented, Royer is the creator, producer, and host of the Web-TV show Great Casino Slots, now showing at www.LasVegasLiveTV.com. He also composes music and performs under the names Glenn Diamond, Pappy Jones, Hans Dorfmann, and Miguel Armandaiz. For more information, please visit him at www.MoreCasinoDeals.com and www.GamingAuthor.com. Sign up for the Insider Advantage Newsletter at: http://www.accessvegas.com/old-access/membership
His books can be ordered through this website, by following the links provided
(c) Copyright 2016 Victor H. Royer. All rights reserved. For syndication purposes, contact GSR Holdings Inc. at: [email protected]