Las Vegas Gambling Tips – The Bart, The Playmate, and The Poker King
Las Vegas Gambling Tips: The Bart, The Playmate, and The Poker King
On The Town With Vegas Vic
By: Victor H. Royer
Welcome to Las Vegas! My name is Victor H. Royer, but everyone just calls me Vegas Vic. I was named after that famous neon sign in Downtown Las Vegas, that cowboy with the hat on top of the Pioneer Club, always waving his hand and beckoning to his long love, Sassy Sally, on the other side of the street. I will be writing a few articles for AccessVegas.com, so I hope you enjoy them.
---
The Bart, The Playmate, and The Poker King
A tale of Homeric proportions is about to be unleashed on your TV. That's Homer as in "Simpsons", not Homer as in "The Iliad" and "The Odyssey". For those of you who are not familiar with Greek literature, Homer was the great grandpappy of Bart. Anyway, so the story goes — as far as history is concerned.
We jest not, pray tell ye Bard speaketh. That's "Bard", as opposed to "Bart" — the aforementioned historical figure also closely related to William Shakespeare.
And just to make sure that we mix up this literary soup with as many cans of beans as we can find, or — in this case a good dose of ye tomatoes — known to most of us mortals as Playboy Playmates, we shall liberally sprinkle this tale of many cuties (with apologies to Charles Dickens) by also including a few bags of chips — the poker kind, not the ones to munch on when you run out of nails and fingers.
And so dear travelers upon this road of quasi intellectual mirth, this entire preamble leads us to the inevitable conclusion that this article leads directly to Mr. Sam Simon, well-known writer, TV producer, and to most of us known as the co-creator of the famous TV show "The Simpsons". As such, this show being a masterpiece of contemporary intelligentsia unseen since Homer and Shakespeare, we shall all now bow in silence as we truly appreciate the wisdom of the Bart (that's the other one, not Shakespeare).
Having so bestowed upon us this iconic Americanism in the form of the first family of television, Mr. Simon has now granted upon us the joy of delicious Playboy Playmates, first and foremost in the form of Brande Roderick, and numerous television and poker playing celebrities, as they participate in "Sam's Game", the brand-new poker show on the Playboy TV channel, beginning June 11, 2009, at 9 p.m. Eastern and Pacific.
Here we have not only poker action, but laughter and comedy and beautiful women all cavorting together in Sam's beautiful Hollywood home, as they vie for the attention of good cards and mountains of poker chips, while at the same time trying not to be distracted by the ever present scantily clad Playboy Playmates at their beck and call for every dream and wish.
And so you too can join in these festivities simply by tuning in to your Playboy TV channel at the appointed hour and day, and watching not only great and hot poker action, the comedic stylings of many Hollywood celebrities and other participants, but also the hot babes that will make you envy Hugh Hefner (in case you don't already do so).
Among the many famous players in Sam's game are Norm McDonald, Jennifer Tilly, Jennifer Lee, Phil Laak, Brande Roderick, and Playboy Playmates Deanna Brooks, Stacy Fuson, and Andrea Lowell.
During my recent interview with Sam, I asked him several questions regarding this particular television poker show, and what is different about it from other poker shows now appearing on television.
First and foremost, Sam's Game is completely uncensored, and therefore you will get a really rich insight into the dialogue of the true Hollywood home poker game with all of its intensely literary colorations. But Wait, There's More!
I specifically asked Sam what is different about his poker show as opposed to High Stakes Poker. "There are two main differences," he said, "the first being that the stakes are not high, and the second that the players are funny." This is in line with the theme of the program which is very much directed to being more of a social game, and therefore actually more representative of the kind of Hollywood home games that these participants actually play.
I also asked Sam what was different about his show from the Hollywood Home Game and Celebrity Poker Showdown which had also been on TV. "There is a huge difference between this show and the others," he said, "because we have all been friends for over 20 years in some cases, and we all know each other, and have played together with each other many times, and therefore this is the kind of game that actually takes place. We are not strangers," he continued, "because we all know each other and therefore we are not meeting at the game. We all have a history with each other and therefore the viewers will feel like they are actually sitting in on my game, and being a part of it."
The game is filmed at the Palms Hotel and Casino in Las Vegas, and therefore it is a legitimate cash game played under Nevada rules, in a licensed casino. This makes it even more interesting because viewers can now experience live entertainment, and poker, and celebrities, and Playboy Playmates, all in one fun filled package.
Finally, I asked Sam what it is like playing with all those Playboy Bunnies, and if this was distracting to the players — at least the male kind. "While it was a difficult decision to participate in a poker game with all those delicious looking Playboy Playmates," Sam said, "ultimately, when it comes to poker, we as poker players are dedicated to the art of poker, and therefore are not distracted by the voluptuous beauties catering to our every wish and whim." I can certainly appreciate that, and empathize with Sam on this score. Being a poker player myself, I know how truly interesting poker and poker chips may be, especially when the choice is sitting around a table with sweaty cigar smoking men instead of lounging in the arms of a voluptuous babe who wants to cater to my every whim. A tough choice, indeed.
So, do give it a whirl, old chap. You can subscribe to the Playboy TV channel through your local cable company, or satellite provider, and be sure to tune in to Sam's Game, and experience poker as it was meant to be played. And if you can't wait, you can always log on to www.YouTube.com and look at a selection of scenes from upcoming episodes.
And so as the sun sets on yet another day in Hollywood, and the moon rises over the glittering neon skyscape of Las Vegas, we leave you with the immortal words of perhaps the most famous showman of them all, P. T. Barnum, and his prophetic wisdom: "There's a sucker born every minute!" And if you do not want to be one of that particular caste, then we humbly suggest that you participate and partake in Sam's Game on the Playboy TV channel, beginning Thursday, June 11, at 9 p.m. Eastern and Pacific.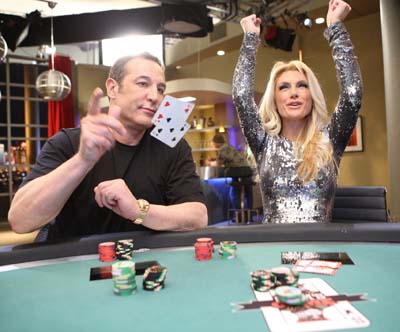 Sam Simon and Playboy Playmate Randy Roderick on the set of Sam's Game, now showing on the Playboy TV channel.
---
Victor H. Royer, known as Vegas Vic, is the author of 42 books. Mostly known for books, articles, and columns on casino games and gambling, he is also the author of New Casino Slots, Great Gamblers: True Stories and Amazing Facts, The Great American Joke Book, as well as his works of Fiction, which include: Another Day, and the Western: Riders on the Wind. Versatile and multitalented, Royer is the creator, producer, and host of the Web-TV show Great Casino Slots, now showing at www.LasVegasLiveTV.com. He also composes music and performs under the names Glenn Diamond, Pappy Jones, Hans Dorfmann, and Miguel Armandaiz. For more information, please visit him at www.MoreCasinoDeals.com and www.GamingAuthor.com. Sign up for the Insider Advantage Newsletter at: http://www.accessvegas.com/old-access/membershipvr
His books can be ordered through this website, by following the links provided
(c) Copyright 2016 Victor H. Royer. All rights reserved. For syndication purposes, contact GSR Holdings Inc. at: [email protected]