Las Vegas Gambling Tips – Video Slots – Texas Tea
Las Vegas Gambling Tips: Video Slots – Texas Tea
On The Town With Vegas Vic
By: Victor H. Royer
Welcome to Las Vegas! My name is Victor H. Royer, but everyone just calls me Vegas Vic. I was named after that famous neon sign in Downtown Las Vegas, that cowboy with the hat on top of the Pioneer Club, always waving his hand and beckoning to his long love, Sassy Sally, on the other side of the street. I will be writing a few articles for AccessVegas.com, so I hope you enjoy them.
Video Slots – Texas Tea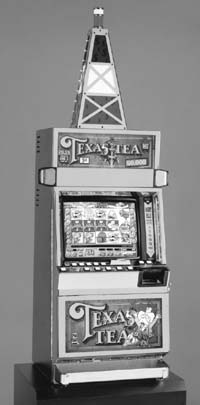 This is a terrific game. I have played this game many times and it is not only great fun, but it also pays very well. It is a five reel 9-line video slot machine with just about the craziest, zaniest and most fun characters you will ever find in a video slot machine. I just can't say enough about the loads of fun that you will find in this game. You will just never tire of playing it, it's that much fun.
Not only because of the homely Texas drawl twang of the Texas Ted main character, but also because of the armadillo from Amarillo, and mooing cows and, well, all the rest. It's so funny! Three or more of the Texas Ted symbols trigger the Oil Dividend bonus. When you hit this, the screen changes to the view of Ted's office where he is about to write you a oil dividend check. This check sails from his desk and reveals the amount of your credit bonus. And it's always as big as Texas!
The Big Oil bonus starts when three of more of the oil derricks land on any active payline. Once this happens, the screen rumbles and shakes, and the black gold oil starts to ooze from all around the screen until it covers the entire screen. When it washes away you are transported to another bonus screen where you will see a map of Texas divided into eight sections. Each section has a counter. At the bottom right of the screen are two additional counters, one which keeps a score of how many credits you won during this round, and the other keeps a score of how much you won overall. Texas Ted will now ask you to pick a region and place an oil rig on it.
Once you have placed all the derricks you can on the selected regions, they each start pumping oil. As they pump, your profits are accumulated on the counter in each region. This goes on for quite a while, as each derrick starts and stops, while another one start and stops, and so on. For quite a while, until all wells run dry. By that time you would have accumulated a lot of credits, which are displayed on each region's credit meter, as well as added to the overall credit meter below.
With frequent hits, and very frequent bonus hits, and very nice payoffs, this is one of the best IGT video games you can find. And it's a whole lot of fun to play as well.
Victor H. Royer, known as Vegas Vic, is the author of 42 books. Mostly known for books, articles, and columns on casino games and gambling, he is also the author of New Casino Slots, Great Gamblers: True Stories and Amazing Facts, The Great American Joke Book, as well as his works of Fiction, which include: Another Day, and the Western: Riders on the Wind. Versatile and multitalented, Royer is the creator, producer, and host of the Web-TV show Great Casino Slots, now showing at www.LasVegasLiveTV.com. He also composes music and performs under the names Glenn Diamond, Pappy Jones, Hans Dorfmann, and Miguel Armandaiz. For more information, please visit him at www.MoreCasinoDeals.com and www.GamingAuthor.com. Sign up for the Insider Advantage Newsletter at: http://www.accessvegas.com/old-access/membership
His books can be ordered through this website, by following the links provided
(c) Copyright 2016 Victor H. Royer. All rights reserved. For syndication purposes, contact GSR Holdings Inc. at: [email protected]