Las Vegas Gambling Tips – Video Slots – Miss Kitty
Las Vegas Gambling Tips: Gaming Article
Best Casino Slots – Part 9
By: Victor H. Royer
In this issue – and the following issues – I will now write a little more about some of the favorite slots that my readers have told me they like to play, and also show you some of the great new slots that are now available in your favorite casino. In this issue, I present Miss Kitty™, by Aristocrat, and a short description of the game and how to play it.
---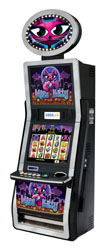 A Purrrrr-fect Game!
Cut yourself a swath of rich winnings from this great multi-line slot machine from Aristocrat!
Some people are dog people, and others are cat people. I have always been a cat person, although I have no problems with any of our four-legged friends. But cats are my thing … I just like them as pets, and basically anything with that motif. I am one of those people who are attracted to any item, or merchandise, with a "cat" theme. My best pet ever was a stray tabby cat that found its way to our back porch as a tiny kitten. We rescued it, and it was a valued part of our family for all the 14 years of its life. It was a wonderful cat, and a good friend.
So, whenever I have a chance to find a slot machine with a "cat" theme, it's one that I always investigate, and like to play. Miss Kittyâ"¢ is a multi-line video slot machine created by Aristocrat. It was first released in 2006, and since then has been a staple in most major casinos. It seems that there are many other people, like me, who also like cats, and cat-themed slots.
Miss Kittyâ"¢ can be found either as a 50-line game, or a 100-line game. In the 50-line game version, 1-credit buys one payline. In the 100-line version, 1-credit buys 2-lines. So, in this second version, you get double the lines for what is essentially the same investment. Either version plays the same, but I personally like the bigger-bang for the more paylines, so I prefer to look for machines with the 100-lines.
When you play Miss Kittyâ"¢ , the MOON (which is a scatter-pay symbol) animates with sound when this feature is won. The CAT symbol (which is "wild") animates when substituting for a win, and a background tune plays with increasing tempo as more of the "sticky wild" CATS are hit. There are also distinctive sounds for the "sticky wild" CATS when you first hit them, and again when they substitute in a winning event. All wins pay left-to-right only, and on adjacent reels. But the CAT substitutes for all symbols, except scatters.
Sticky Wild Free Games Feature
When 3 scattered MOON symbols appear, you will win 10 free games. Any CAT appearing during the free games stays in the window at that position for the remainder of the free games, and substitutes for all symbols, except scatters. Any Scattered MOON symbols occurring beneath the CAT symbols may additionally contribute to a scatter prize, as indicated by the alternating display of these symbols. This Bonus Feature can be triggered again during the bonus, but only once, with 5 free additional games won. Whatever number of credits you played at the beginning of the Bonus Feature — and lines played — will be the same for the bonus as well. So, if you played 50-lines at 1-credit per line, that's the same play and pay structure you will have for the Bonus.
Gamble Feature
On some versions of Miss Kittyâ"¢, when you win, you are then given the chance to bet the credits you just won on the Gamble Feature. This is kind of like the Double-Up bonus on some video poker machines. But unlike the video poker games, where you must wager all of the credits won on this feature, in the Miss Kittyâ"¢ game the Gamble Feature allows you to select either the full amount, or a half only, by touching the Gamble button. If you choose the half-gamble with an odd number, the gamble is automatically rounded. For example, a 5-credit win will be a 3-credit gamble, and not a 2.5-credit wager; so, if you lose, you will still keep the remaining 2 credits.
The way this feature works is by selecting the right color, either Black or Red. If you pick the right color, your win is doubled. If you pick the right suit (Heart, Diamond, Club or Spade), your win is quadrupled. If you pick the wrong one, you lose the gamble the game returns to the main base game. You can take a win at any time – so you don't have to gamble – but if you win 5 times in the one gamble feature, the game ends automatically. This means you can't gamble more than $10,000. Aw, shucks! What a shame, right? Personally, I don't think I would gamble it up that high, but then again – you might want to. Of course, if you happen to win a progressive jackpot on this machine, then you can't gamble the win, even if you actually won credits on the same spin as the jackpot.
I also want to point out that this Gamble Feature may only be available in Australia, and other parts of the world, or perhaps only in selected Tribal Gaming locations in the USA. The best way to find out is to just look for the Miss Kittyâ"¢ game, and see if this feature is include by reading the Help menu on the games screen.
I will write more about this game – and the world of the great new slots – in future issues.
Big News!
I am pleased to announce that I am writing a new book on slots. It will be available about April 2010. I will have more information here in this column in the coming issues. Stay tuned!
Podcast
I have recently completed a new Podcast. You can listen to it at this link:
http://gamblersbookclub.libsyn.com/
---
Victor H. Royer, known as Vegas Vic, is the author of 42 books. Mostly known for books, articles, and columns on casino games and gambling, he is also the author of New Casino Slots, Great Gamblers: True Stories and Amazing Facts, The Great American Joke Book, as well as his works of Fiction, which include: Another Day, and the Western: Riders on the Wind. Versatile and multitalented, Royer is the creator, producer, and host of the Web-TV show Great Casino Slots, now showing at www.LasVegasLiveTV.com. He also composes music and performs under the names Glenn Diamond, Pappy Jones, Hans Dorfmann, and Miguel Armandaiz. For more information, please visit him at www.MoreCasinoDeals.com and www.GamingAuthor.com. Sign up for the Insider Advantage Newsletter at: http://www.accessvegas.com/old-access/membership
His books can be ordered through this website, by following the links provided
(c) Copyright 2016 Victor H. Royer. All rights reserved. For syndication purposes, contact GSR Holdings Inc. at: [email protected]