Las Vegas Gambling Tips – Video Slots – Cleopatra
Las Vegas Gambling Tips: Video Slots – Cleopatra
On The Town With Vegas Vic
By: Victor H. Royer
Welcome to Las Vegas! My name is Victor H. Royer, but everyone just calls me Vegas Vic. I was named after that famous neon sign in Downtown Las Vegas, that cowboy with the hat on top of the Pioneer Club, always waving his hand and beckoning to his long love, Sassy Sally, on the other side of the street. I will be writing a few articles for AccessVegas.com, so I hope you enjoy them.
Video Slots – Cleopatra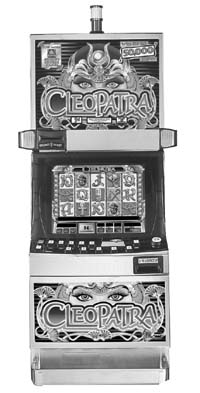 This is an Egyptologist's delight. The amateur archeologist in all slot players will delight in uncovering all these great pays and bonuses. This game can be found in a five-reel 9-line version, and even in a 20-line version. Of course, the more lines you have, the better your chances for a really nice "Nile" win, so I'd recommend that you look for the 20-line game as your first choice. Both are, of course, excellent games, but I like the biggest wins possible, and that's one of the reasons why I like this game, because here you can bet 20-lines. The Cleopatra (TM) symbol is "wild" and doubles any win amount in which it participates. The other reel symbols are taken directly from the hieroglyphs of ancient Egypt, including a scarab, a hieroglyphic eye, a flail, a cartouche, and a variety of stylized poker symbols. Animated flaming Sphinx symbols indicate scatter pays, and the Cleopatra (TM) Bonus allows you to win up to 15 free games during which all pays are tripled. As with all of the terrific IGT games, this one will keep you spellbound and entertained for a long time, and quite likely shower you with large wins. To see what the game looks like, please look at the photo.
Victor H. Royer, known as Vegas Vic, is the author of 42 books. Mostly known for books, articles, and columns on casino games and gambling, he is also the author of New Casino Slots, Great Gamblers: True Stories and Amazing Facts, The Great American Joke Book, as well as his works of Fiction, which include: Another Day, and the Western: Riders on the Wind. Versatile and multitalented, Royer is the creator, producer, and host of the Web-TV show Great Casino Slots, now showing at www.LasVegasLiveTV.com. He also composes music and performs under the names Glenn Diamond, Pappy Jones, Hans Dorfmann, and Miguel Armandaiz. For more information, please visit him at www.MoreCasinoDeals.com and www.GamingAuthor.com. Sign up for the Insider Advantage Newsletter at: http://www.accessvegas.com/old-access/membership
His books can be ordered through this website, by following the links provided
(c) Copyright 2016 Victor H. Royer. All rights reserved. For syndication purposes, contact GSR Holdings Inc. at: [email protected]