Las Vegas Gambling Tips – Video Slots – Carnival of Mystery
Las Vegas Gambling Tips: Gaming Article
As promised, in this issue and the following issues – I will now write a little more about some of the favorite slots that my readers have told me they like to play, and later also show you some of the great new slots that are about to be released. In this issue, I present: Carnival of Mystery video slot machine from IGT.
---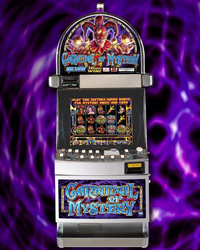 This is the fascinating Carnival of Mystery video slot machine from IGT, presented in the Game King Upright 19″ video cabinet.
Carnival of Mystery
When I was a little boy, the traveling Circus was still a big attraction. These days the age of the Big Top is all but over. Not only because of the era and age in which we now live – where the Internet offers more entertainment than any Circus ever did, and our favorite slot machines make up for the difference in the entertainment and winning thrills we seek – but also because of the movement toward banning animal acts, and cruelty to animals in general. I happen to agree with this, but at least a part of me longs for the age of innocence, where a little boy marveled at the great Big Top and the Circus, and all that it brought to town.
So, if you're like me, and Ms. Morgan, you also might like to play this great video slot machine from IGT. In general, the payback ranges from about 85% to 95%, although this may be somewhat different, depending on where you are playing it. Personally, I have found the game quite good, providing some very significant pays, and bonuses that are not only frequent enough to be enjoyable, but ones that also pay well. In brief, here's a description of what this game offers:
Game Overview
Mystery and enchantment will delight you as you travel through this rich carnival of characters. Bonuses filled with jesters, puppets and magical floating spheres will hold you in suspense. This 5-reel game includes the new MultiWayâ"¢ wagering feature that lets you buy reel positions instead of lines. This creates even more ways to win.
OK, so we're laying it on a little thick here, but that's actually close to what the game will do for you – even though we should perhaps use language a little less colorful, right? OK, so a little poetic license – very little, you say? Hmmm, so much for my career as a comic.
Jesters Games Bonus
Five Jesters Games symbols in any winning combination triggers this bonus. To start, just touch a circular box and this begins one of three additional bonuses.
Floating Balls Bonus
There are three balls that open to reveal a credit value, and then spin to change positions. Just pick one of the balls, and in addition to more credits you can also win a ticket to another bonus round.
Evade the Jester Bonus
Here you will be asked to make a selection from a large grid of tiles which reveal credit values, and possibly a ticket to another bonus. You can continue to pick tiles until a jester appears, which ends the bonus round. Kind of like finding the party pooper in Jackpot Party.
Puppet Bonus
If you get to this round of bonuses, you will be asked to select two or three puppets. Each puppet reveals a 1-digit credit value, along with a possible ticket to yet another bonus.
Jackpot
Of course, the main goal is to hit the jackpot. In this game, five Carnival of Mystery™ symbols in any position from left to right, with max bet, wins you all the circus fun you could even hope for – meaning, of course, the top jackpot award.
And so here it is, as briefly as possible in the space of my column. With thanks to Ms. Morgan, and to my Mom for taking me to the Circus when I was a wee bit of a lad.
More games in next column.
---
Victor H. Royer, known as Vegas Vic, is the author of 42 books. Mostly known for books, articles, and columns on casino games and gambling, he is also the author of New Casino Slots, Great Gamblers: True Stories and Amazing Facts, The Great American Joke Book, as well as his works of Fiction, which include: Another Day, and the Western: Riders on the Wind. Versatile and multitalented, Royer is the creator, producer, and host of the Web-TV show Great Casino Slots, now showing at www.LasVegasLiveTV.com. He also composes music and performs under the names Glenn Diamond, Pappy Jones, Hans Dorfmann, and Miguel Armandaiz. For more information, please visit him at www.MoreCasinoDeals.com and www.GamingAuthor.com. Sign up for the Insider Advantage Newsletter at: http://www.accessvegas.com/old-access/membership
His books can be ordered through this website, by following the links provided
(c) Copyright 2016 Victor H. Royer. All rights reserved. For syndication purposes, contact GSR Holdings Inc. at: [email protected]