Las Vegas Gambling Tips – Video Slots – The Addams Family
Las Vegas Gambling Tips: Video Slots – The Addams Family
On The Town With Vegas Vic
By: Victor H. Royer
Welcome to Las Vegas! My name is Victor H. Royer, but everyone just calls me Vegas Vic. I was named after that famous neon sign in Downtown Las Vegas, that cowboy with the hat on top of the Pioneer Club, always waving his hand and beckoning to his long love, Sassy Sally, on the other side of the street. I will be writing a few articles for AccessVegas.com, so I hope you enjoy them.
Video Slots – The Addams Family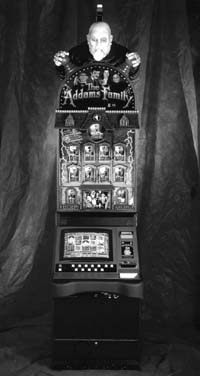 No self-respecting column about video machines could be worthy of the effort if we didn't "frighten" you a little. Ehm, well, so much for comic relief. This is a video slot machine from IGT based on the popular television show of the same name. You can experience spooky delights as this game brings you ever closer to a more frightening experience. Well, perhaps we should say "rewarding" experience, because there are more way to win on this game than you can shake a bat at. Er, I mean shake a stick at. Okay, I know. Enough of the bat jokes – I mean bad jokes. There! See? I did it again. Well, never mind. I'm in the spirit of this game and it's just overwhelming me right now. I also happen to like the comic strip and the films, and I guess that's why I'm drawn to the game.
It is a five reel 9-line game with a maximum bet of 45-coins. As with all the IGT video machines, it features stunning and clear graphics and top-notch sound, as well as a monitor with superior video resolution. All this simply means that you will be able to clearly see the game and enjoy it without having to squint because the symbols look a little ragged, like on some of the other kinds of machines.
The bonus features are combined into three separate themes. The Market Madness bonus round consists of the Market Madness and Train bonuses. When three or more of the Market Madness symbols hit on any active payline, Gomez and Thing will guide you through an offer-based game with multiple chances to win big awards. To get the Train Bonus, two Train symbols must first land on the top, middle, or bottom of both the first and fifth reels. When this happens, you are into the bonus round. In the Train Bonus, two trains appear to be heading for a collision. Thing, however, saves the day and awards you winning bonus credits.
In the second bonus feature, the Pick to Win theme includes the Train Bonus. In the Pick to Win feature, you must first land three, four or five of these bonus symbols on any payline. When these cause a scatter pay, they launch Lurch's Pick to Win bonus. Lurch then asks you to pick from a series of dollar signs ($$) to accumulate credits throughout multiple rounds of bonus play. Of course, the Train Bonus feature works the same as previously described, and is also available in the Pick to Win game.
The third of the three bonus games is the Fry Fester theme, which features the Fry Fester and the Rock, Paper and Scissors bonuses. Any three Fry Fester symbols in any position start this great bonus. As the bonus continues, you will get the chance to re-energize Fester. He's feeling a little low on energy, and you will give him a boost by selecting bonuses. The electricity mounts as the bonus values increase. The other part of this bonus feature is the Rock, Paper and Scissors game. If any Wild Thing symbol lands on any active payline along with any of the correctly lined-up Thing symbols, you will then get the chance to play Thing at a game of Rock, Paper and Scissors. The more you win, the higher the multiplied wins, anywhere from two times to ten times the win. It's a fun game to play, and will keep you amused for a long time, as well as providing you with some serious winning opportunities. To see what the game looks like, I have included a photo.
Victor H. Royer, known as Vegas Vic, is the author of 42 books. Mostly known for books, articles, and columns on casino games and gambling, he is also the author of New Casino Slots, Great Gamblers: True Stories and Amazing Facts, The Great American Joke Book, as well as his works of Fiction, which include: Another Day, and the Western: Riders on the Wind. Versatile and multitalented, Royer is the creator, producer, and host of the Web-TV show Great Casino Slots, now showing at www.LasVegasLiveTV.com. He also composes music and performs under the names Glenn Diamond, Pappy Jones, Hans Dorfmann, and Miguel Armandaiz. For more information, please visit him at www.MoreCasinoDeals.com and www.GamingAuthor.com. Sign up for the Insider Advantage Newsletter at: http://www.accessvegas.com/old-access/membership
His books can be ordered through this website, by following the links provided
(c) Copyright 2016 Victor H. Royer. All rights reserved. For syndication purposes, contact GSR Holdings Inc. at: [email protected]