Stratosphere Tower Thrill Rides Las Vegas Attractions
Las Vegas Attractions: Stratosphere Tower
Stratosphere Tower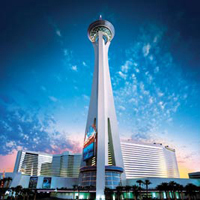 The Stratosphere Tower is 1,149 feet tall and the tallest freestanding observation tower in the United States as well as the tallest building west of the Mississippi River. Panoramic views of the Las Vegas Strip and surrounding valley are afforded from the observation decks, restaurant, lounge and meeting spaces.
Double decker elevators which travel at speeds of 1,800 feet per minute whisk visitors from ground level to the observation decks in less than 30 seconds. Once at the top, thrill seekers can enjoy excitement over 100 stories above the ground on the Big Shot, Insanity, and X Scream thrill rides.
A specialty lighting syste provides a spectacular danding light show nightly, which is visible throughout the Las Vegas Valley. Visit the Stratosphere Tower for ultimate thrill rides, unparalleled views and dazzling show.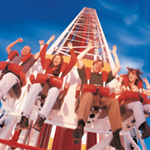 Big Shot
Be catapulted 160 feet in the air as you overlook the the majestic Las Vegas Valley from the 921 foot high platform atop the Stratosphere Tower. Traveling at 45 miles per hour, riders experience 4G's as they reach the very top, and feel negative G's on the way down.
Insanity
Dangle 64 feet over the edge of the Stratosphere Tower off a massive mechanical arm at a height of over 900 feet and spin around. Insanity the Ride is a truly mindbending experience! Reach speeds of up to 3 G's in the open air as you spin around on Insanity and be propelled up to an angle of 70 degrees, tilting your body into a position facing straight down! If you're brave enough to keep your eyes open you'll be rewarded with a breathtaking view of historic downtown Las Vegas.
X-Scream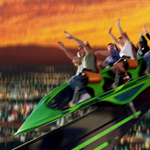 Ever wonder what it would feel like to go over the edge of a 866 foot high cliff? No need to wonder any longer. Check out the X-Scream on top of the Stratosphere Tower. The massive teeter-totter like ride will propel you and several other riders head-first, 27 feet over the edge of the Stratosphere Tower. After being shot over the edge, you'll dangle weightlessly above the Las Vegas strip before being pulled back and propelled over again for more.
Location:
Stratosphere Casino Hotel and Tower
2000 Las Vegas Boulevard South
Las Vegas, NV 89104
Google Maps Link