Silverton Hotel & Casino Aquarium Free Shows
Las Vegas Free Attractions: Silverton Hotel & Casino Aquarium
Silverton Hotel & Casino Aquarium
Love fish? A new expansion has recently opened at Silverton Hotel & Casino, which houses several beautiful salt and fresh-water aquariums, which are free to the public.
A 117,000 gallon artificial reef is the main attraction, housing over 4,000 tropical fish, 3 species of stingrays and 3 species of sharks. The aquarium is a beautifully designed octagonal aquarium with viewing on all sides.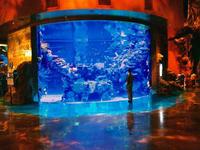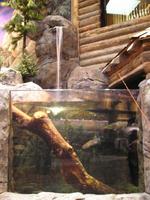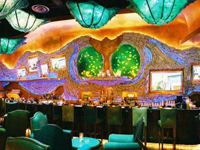 Underwater shows provide entertainment throughout the day. An interactive fish feeding show features staff marine biologists diving into the aquarium with a full-face communication mask that allows him/her to interact with guests while feeding the animals. A question and answer portion allows guests to ask the diver any question they'd like.
Two 500-gallon jellyfish aquariums are the backdrop in the Mermaid Lounge. Hypnotic LED lighting cycles through these aquariums displaying the jellies in seemingly endless colors.
Inside Bass Pro Shop three freshwater aquariums provide plenty of fish fresh water fish viewing. A 4,000-gallon aquarium represents a spring fed Nevada stream featuring trout. Huge carp, catfish and bass are housed in a 20,000 gallon Nevada lake display aquarium. The third exhibit is a 28,000 gallon rapid flowing canyon display housing channel catfish, bluegills, turtles, seven species of duck and a sturgeon.
Location:
Silverton Hotel and Casino
3333 Blue Diamond Road
Las Vegas, NV 89139