Lake Mead National Park Las Vegas Attractions
Las Vegas Attractions: Lake Mead National Recreation Area
Lake Mead National Recreation Area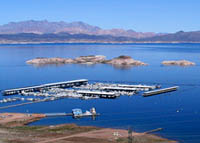 Offering a wealth of things to do and places to go year-round, Lake Mead National Recreation Area caters to boaters, swimmers, sunbathers, and fishermen with its huge lakes while its desert rewards hikers, wildlife photographers, and roadside sightseers. It is also serves as home to thousands of desert plants and animals, adapted to survive in an extreme place where rain is scarce and temperatures soar.
Lake Mead National Recreation Area hase nine main access points, which include two lakes and over 1.5 million acres of land. The Alan Bible Visitor Center or Lake Mead Visitor Center, located off U.S. 93, southeast of Boulder City, hosts newly designed exhibits for exploration. Discover the Mojave Desert through the interactive, hands-on exhibits. Members of the Park staff are available to provide information, books and maps, and other educational and fun items for sale.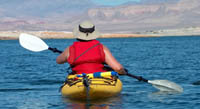 Visitors to Lake Mead National Recreation Area may enjoy a variety of water recreation activities in a rugged and picturesque setting. Some of the country's best sport fishing can be had at Lakes Mead and Mohave. Boating, water skiing, kayaking and canoeing are also favorite activities on the lakes. Shaded picnic areas are available throughout the area. View dramatic scenery of Lake Mead by following several paved roads which wind through the area and discover places you will never see from a boat or car by following one of the short desert hikes.
Location:
Lake Mead National Recreation Area
Boulder City, NV 89005
Google Maps Link