Hoover Dam Las Vegas Attractions
Las Vegas Attractions: Hoover Dam
Hoover Dam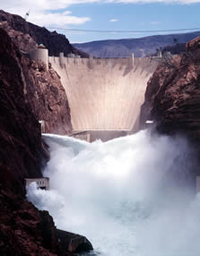 Completed in 1935 and conducting tours through the dam and powerplant since 1937, the Hoover Dam is one of the Bureau of Reclamations's multipurpose projects on the Colorado River. These projects store water for irrigation, municipal, and industrial use, control floods, and provide generation of hydroelectric power, recreation, and fish and wildlife habitat. Close to 1,000,000 visitors a year take the tour and millions more drive across the dam. The dam is located 30 miles southeast of Las Vegas on US Highway 93 at the Nevada-Arizona border.
The Discovery Tour is a self-paced tour providing a quality, informative visit and is the best way to see, learn and appreciate what Hoover Dam is all about. Guide staff present talks at a number of locations within the visitor facilities and various locations on top of the dam. A ticket is required to explore the Visitor Center and dam exhibits. It takes about two hours to discover all the features at Hoover Dam.
The Hoover Dam Visitor Center is open every day of the year except for Thanksgiving and Christmas.
Note: To see it all, we recommend visitors arrive by 2:00 p.m. Pedestrians are prohibited from the top of the dam during hours of darkness.
Location:
Hoover Dam
US-93
Uninc Mohave County, AZ
Google Maps Link