Flyaway Indoor Skydiving Las Vegas Attractions
Las Vegas Attractions: Flyaway Indoor Skydiving
Flyaway Indoor Skydiving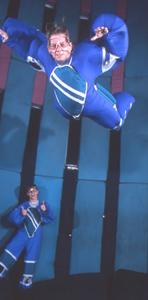 Daredevils welcome! Try out the exciting new sport challenge in Las Vegas – Flyaway! Test your athletic skill in the sport of bodyflight in a vertical wind tunnel that simulates the freefall experience of skydiving. At Flyaway, you'll get to fly in a column of air 12 feet across and up to 22 feet high, with vertical airspeeds up to 120 mph – which allows you to FLY INDOORS!
Participants attend a 20-minute training class to discuss body control techniques and safety procedures. Flyers then receive a suit, helmet and other safety equipment. Following a short review of the basics, a group of five flyers then enters the wind tunnel with their instructor. Participants take turns flying during a 15-minute session. Each individual receiving approximately 3 minutes of airtime.
Classes are conducted every hour and half-hour during business hours. Registration for class is on a first come, first serve basis. The best time to fly is early in the day. Please budget up to an hour and 15 minutes for your visit.
Location:
Flyaway Indoor Skydiving
200 Convention Center Drive
Las Vegas, NV 89109
Google Maps Link