Siegfried & Roy's Secret Garden and Dolphin Habitat at The Mirage Las Vegas Attractions
Las Vegas Attractions: Siegfried & Roy's Secret Garden and Dolphin Habitat at The Mirage
Siegfried & Roy's Secret Garden and Dolphin Habitat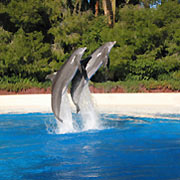 Visit Siegfried & Roy's Secret Garden and Dolphin Habitat to enjoy a peak at rare and exquisite animals as they enjoy relaxing in their tropical environment, painstakingly modeled after their natural habitats.
The 2.5 million gallon Dolphin Habitat is home to a family of Atlantic bottlenose dolphins, the most recent addition, Sgt. Pepper was born in June 2007. The Dolphin Habitat is both an educational and research facility featuring four connected pools, and an artificial coral reef system and sandy bottom which replicate the dolphins' natural environment. The purpose of the facility is to provide a healthy and nurturing environment for dolphins, as well as to educate the public about marine mammals and their environment, including their role in the ecosystem.
The Secret Garden is a tropical atmosphere, surrounded by palm trees and lush foliage, which was modeled after the natural habitats of the exquisite animals who live here. The Secret Garden houses white tigers,, white lions, golden tigers, black panthers, leopards, lions, and snow leopards.
Location:
The Mirage Resort and Casino
3770 Las Vegas Blvd. South
Las Vegas, NV 89109
Google Maps Link