Bodies The Exhibition Museums Las Vegas Attractions
Las Vegas Attractions: Bodies: The Exhibition
Bodies: The Exhibition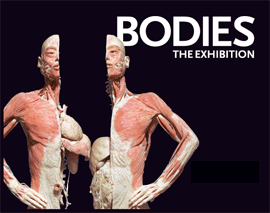 Now showing: BODIES… The Exhibition at Luxor Hotel and Casino in Las Vegas.
Featuring real human bodies, the Exhibition showcases more than 260 organs and partial body specimens in addition to 21 whole-body specimens. These real human bodies in this fascinating educational display have been meticulously dissected, preserved through an innovative process and respectfully presented, giving visitors the rare opportunity to view the beauty and complexity of their own organs and systems.
The Exhibition encourages healthy lifestyle choices by serving as a wake-up call in addition to providing an up-close look inside our skeletal, muscular, respiratory, and circulatory systems. Guests can see the damage caused to organs by over-eating and lack of exercise illustrated through the authentic human specimens.
Location:
Luxor Hotel & Casino
3900 Las Vegas Blvd., South
Las Vegas, NV 89109
Google Maps Link