Adventuredome at Circus Circus Thrill Rides Las Vegas Attractions
Las Vegas Attractions: Adventuredome at Circus Circus
Adventuredome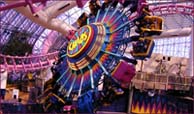 Featuring five acres of adrenaline-spiked indoor fun, The Adventuredome at Circus Circus is the epicenter of Las Vegas entertainment. Filled with thrilling rides for kids and adults, as well as great games, putt putt golf and free clown shows, The Adventuredome will let you release your inner wild child.
Thrill rides include: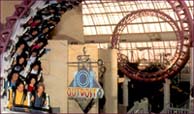 Canyon Blaster
The world's largest indoor double-loop, double-corkscrew roller coaster in America.
Rim Runner
One of the wildest, and wettest, rides in the park. You'll ride a gentle stream on your way up, but once you reach the top, brace yourself for the 60 foot waterfall!!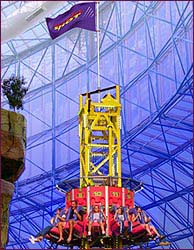 Sling Shot
Be catapulted into the sky with sling shot. This tower ride shoots you up at 4G's of acceleration and then straight back down again.
Inverter
It's 360 degrees of constant G force, the likes of which you've never experienced. It's endless flipping at mind-blowing speeds.
Chaos
Chaos, a thrill ride that whirls its riders in three ranges of motion. The speed and intensity of motion provides a totally unpredictable ride every time.
There are also junior rides for those 36″ to 58″.
Please call the hotline for up-to-date hours, 866-456-8894 or 702-794-3939.
Location:
Circus Circus Hotel and Casino
2880 Las Vegas Blvd. South
Las Vegas, NV 89109
Google Maps Link