Hot Hotel Happenings - Save Big Now!
All Caesars Vegas Properties: Rates From $30!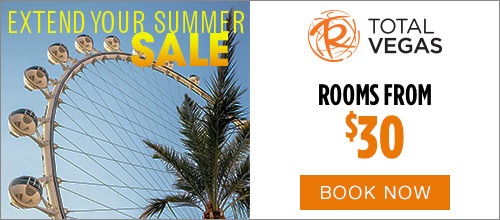 Best Las Vegas And Grand Canyon Tours - Click To Watch:
Grand Canyon Dreamer Deluxe Tour From Las Vegas - This ultimate experience lets you see the Grand Canyon by airplane, helicopter, and on foot. Be whisked from Las Vegas on a comfortable executive class aircraft (no TSA!) for the quick flight to the Grand Canyon, where all the wonders await. Click to book this exciting tour today!


Access What's Hot


Insider Vibe Newsletter Alert -
October 14, 2015
In This Issue: $1 Million Stolen In Bellagio Craps Scheme; Behind The Scenes Of 'Casino'; 'Crazy Girls' Celebrates 28th Anniversary; Escaped Inmate Threatened To Jump From Golden Nugget's Parking Garage; Looking For Tacos? These Are The Best Tacos In Las Vegas; New Casino Exec Is Using Innovation To Attract Millenials; Olivia Newton-John Named 2016 Woman Of The Year; R&B Artist Durrell "Tank" Babbs And Zena Foster Spotted At ABSINTHE; The 10 People You Wish You Didn't See In Las Vegas; Will Casinos Ever Be Smoke-Free In Las Vegas?; Click To Read Now!
Enjoy Limitless Mimosas For Brunch At GIADA At The Cromwell
After much anticipation, Las Vegas' hottest restaurant, GIADA in the Cromwell Vegas, is proud to debut weekend brunch. Read More...


Insider Vibe Newsletter Alert -
October 7, 2015
In This Issue: Bruno Mars here on NYE; Do Las Vegas Street Performers Take It Too Far?; Enough Parking Available Near New Arena?; John Fogerty's and J-Lo's Residency; Pitbull At ABSINTHE; Reasons You Shouldn't Live In Vegas; Take Maverick Helicopters to EDC; The Judds Reminisce About First Show; Uber and Lyft news; Vegas Videos You'll Enjoy; Click To Read Now!
R&B Artist Durrell "Tank" Babbs And Zena Foster Spotted At ABSINTHE
R&B artist and producer Durrell "Tank" Babbs and girlfriend Zena Foster were spotted attending ABSINTHE at Caesars Palace on Sunday, October 4. The couple were seen enjoying the outlandish acts and hilarious antics featured in ABSINTHE during the 8 p.m. show. Tank and Zena met with The Gazillionaire and his assistant Joy Jenkins for photos and to express their enjoyment of the show following the performance. Read More...
Rapper Pitbull Spotted At ABSINTHE
Rapper and performer Pitbull was spotted attending ABSINTHE at Caesars Palace on Thursday, October 1. Read More...
Travel To Electric Daisy Carnival In Style With Maverick Helicopters
Maverick Helicopters, the exclusive company to supply helicopter travel back and forth from Vegas Motor Speedway, heightens the 20th annual Electric Daisy Carnival (EDC), Vegas experience with VIP flight transfers on June 17, 18 and 19, 2016. Read More...


Insider Vibe Newsletter Alert -
September 30, 2015
In This Issue: Pitbull is in Las Vegas; Britney Spears Slot Machine; The Judd's Prepare For Residency; Strip Escalators To Be Replaced; Which Games Are The Biggest Hit At The Casino?; Siegfried And Roy Introduce 4 Tiger Cubs; Skill-Based Video Game Gambling Machines; Casino Chip Designs That Should Be; Vegas Videos You'll Enjoy; Click To Read Now!
Celebrate 25 Years Of Rocking In Las Vegas At Hard Rock Cafe With Free Live Music And Food Specials
Hard Rock Cafe Las Vegas at Hard Rock Hotel will commemorate twenty five years in Vegas having a ten-day celebration from Friday, October 2 through Sunday, October 11, 2015. Festivities include free live music shows, throwback menu products, drink and food special offers, interactive occasions and much more! Read More...
Aristocrat's Britney Spears™ Slot Game Premiers At Planet Hollywood
Worldwide celebrity Britney Spears recently took her show from the stage to the casino floor to premiere Aristocrat's Britney Spears™ Slot Game at Planet Hollywood Resort & Casino. Read More...
Enchanted Fall Forest Delights At Bellagio's Conservatory And Botanical Gardens
Bathed in fall foliage, Bellagio's Conservatory and Botanical Gardens will take visitors on an enchanted tour of its new fall display, now through November 30. Crisp leaves, gigantic pumpkins, mythical animals along with a speaking tree will delight the senses and awaken the spirit from the vibrant harvest season. Read More...
Take A Tour Of Wayne Newton's Casa De Shenandoah
The gates to Mr. Las Vegas' home have opened to the general public for the very first time. Read More...
Local Artists' "Defiantly Inspired" Photography Exhibit Displayed At Delano Las Vegas
Delano Vegas continues its celebration of local artists with installing "Defiantly Inspired" by Vegas photography enthusiasts Robert Knight and Maryanne Bilham. Read More...
Maverick Helicopters Upgrades Entire Shuttle Fleet To Limo Coaches
Maverick Helicopters has invested nearly $2 million to upgrade its entire ground transportation fleet to limo coaches, offering Vegas visitors an extravagant experience beyond just takeoff to touchdown. Read More...
New Center Bar Unveiled At Hard Rock Hotel
The highly-anticipated new Center Bar has become open at Hard Rock Hotel & Casino Vegas. Situated inside the heart from the resort, the larger and better Center Bar emits a dynamic vibe using its upgraded look, new lounge area, broadened cocktail menu and spectacular breathtaking sights from the casino floor. Read More...
Rap Producer Drumma Boy Spotted At ABSINTHE
Famed rap producer Drumma Boy stopped by ABSINTHE at Caesars Palace for the 8 p.m. performance on August 19. The music mogul, who is in town for the MAGIC fashion marketplace convention, met with The Gazillionaire, his assistant Joy Jenkins, the "Green Fairy" Melody Sweets and and Tap Dancing Duo Sean & John post-show for photos Read More...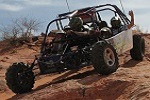 Mini Baja Buggy Half-Day Driving Tour
This sun buggy tour adventure is definitely not tailored for the weak at heart. You will get behind the wheel of a true desert racing machine for a 30-minute ride that takes you somewhere between 10 and 15 miles over challenging terrain. Read More...
Pete Rose To Bring Modern American Fare Restaurant To The Las Vegas Strip
Baseball icon Pete Rose is opening an all-American restaurant and sports bar to the epicenter of the Vegas Strip with the grand opening of Pete Rose Bar & Grill in October. Read More...
'Crazy Girls' Celebrates 28th Anniversary
September 25, 1987 is really a day that transformed Vegas forever… the date marked the very first live show of the now legendary "Crazy Girls" in the Riviera Hotel & Casino. Read More...
The Shops At Crystals Welcomes 'HOTO' Art Installation To The Las Vegas Strip
Tatsuo Miyajima, certainly one of Japan's most influential artists in the last 2 decades, first showed his work "HOTO" (2008) within the United States the very first time now to have an indefinite engagement in the Shops at Crystals in Vegas. The piece formerly has been displayed only in China and Japan. Read More...
Opportunity Village Receives Instruments Donated By Carlos Santana And Hermes Music
Legendary music performer Carlos Santana visited the Engelstad Campus of Las Vegas' most notable charitable organization – Opportunity Village. Read More...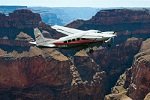 The Navigator Airplane Tour
Fly aboard a Cessna Grand Caravan airplane and land at Grand Canyon West Rim to view Eagle Point, Guano Point, and the Skywalk glass walkway.. Read More...
Shark Reef At Mandalay Bay Debuts New Exhibit: "Sea Monsters Revealed"
The world's biggest exhibition of distinctively maintained ocean animals takes center stage on October 1 with the opening of Sea Monsters Revealed at Shark Reef Aquarium inside Mandalay Bay Resort and Casino. Read More...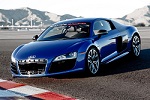 The Exotics Racing Driving Tour
Located just 20 minutes from the Las Vegas Strip, Exotics Racing packages give you the original super car driving experience. It is a top rated attraction with the world's largest and most impressive fleet of cars. They have pro-racing instructors that coach you, lap after lap, to the limit on the 1.2 mile exclusive racetrack. Read More...
Access More Las Vegas