Best Las Vegas And Grand Canyon Tours - Click To Watch:
Grand Canyon Dreamer Deluxe Tour From Las Vegas - This ultimate experience lets you see the Grand Canyon by airplane, helicopter, and on foot. Be whisked from Las Vegas on a comfortable executive class aircraft (no TSA!) for the quick flight to the Grand Canyon, where all the wonders await. Click to book this exciting tour today!


Hot Hotel Happenings - Save Big Now!
Click To View ALL Las Vegas Hotel Deals Print Too Small? (Deals - Large Print)
Access What's Hot
db Brasserie Succeeds On All Counts
db Brasserie, Daniel Boulud's newish restaurant at The Venetian (and his only Las Vegas presence since the demise of his outpost at Wynn Las Vegas) is, true to its name, a fairly casual spot, all dark wood and frosted glass and leather banquettes, and an example of the slightly more downscale ethos that has become the norm for new restaurants in Las Vegas. Slightly more downscale, maybe, but that's not to mean they're lacking in quality, and db Brasserie is a shining example of that. Read More...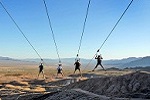 The Flightlinez Bootleg Canyon Sky High Fun Tour
Come experience the thrill and beauty of a Las Vegas zipline with Flightlinez Bootleg Canyon. Soar at speeds up to 60 mph over the Mojave Desert down four separate ziplines. You'll be exploring the mountain from an aerial trail! As you experience an exhilarating descent you will enjoy breathtaking views of Las Vegas, Lake Mead and the Eldorado Valley. Read More...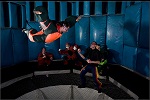 Vegas Indoor Skydiving
Instead of taking a plunge high from the sky, you'll be in a padded room. A "fan" generates winds up to 120 miles per hour. Once the propeller kicks into full gear, you'll float up to approximately seven feet. Each participant will have a total of 3 minutes of flight time in the wind tunnel, which is equal to about 5-6 skydives worth of freefall. Read More...
Rockhouse Scores With NFL And NCAA Viewing Parties
Rockhouse, located inside the The Grand Canal Shoppes at The Venetian and The Palazzo will celebrate the 2014-2015 football season starting Thursday, Sept. 4 with NFL and NCAA viewing parties every Monday, Thursday, Saturday and Sunday. Read More...

Insider Vibe Newsletter Alert - August 27, 2014
In This Issue: SLS Hotel Opens; Labor Day Events and Specials; New Seasonal Spirits Have Arrived At Fizz In Caesars Palace; F.A.M.E. Brings A Different Culinary Culture To The Linq; Curated Craft Cocktail Program At Franklin Lobby Bar; Construction hums on $375 million Strip arena; Massive Catholic church aims to attract locals; Vegas Videos You'll Enjoy; Television Star John Schneider Attends Absinthe Click To Read Now!
Curated Craft Cocktail Program At Franklin Lobby Bar
Rare, premium liquors will highlight the cocktail-centric drink menu and provide unique backbar offerings, with one-of-a-kind spirits including a custom Glen Moray scotch, a Woodford Reserve Double Oaked bourbon and Delano's hand-selected Black Barrel Mt. Gay rum. Read More...
Visit The Vegas That Never Happened: A Look Back At Projects That Fizzled
Entertainment designer Gary Goddard revealed he submitted a proposal in 1992 to build a full-scale version of the USS Enterprise from "Star Trek" in downtown Las Vegas to help lure tourists away from the Strip. According to lore, downtown developers opted instead to build the Fremont Street Experience. The $150 million Enterprise project, which Goddard said he created as an entry for a contest about how to revitalize downtown, was to be about 1,000 feet long. Read More...


Insider Vibe Newsletter Alert - September 10, 2014
In This Issue: Football Viewing Parties and Specials; Actor Joe P. Harris Attends ABSINTHE; Delano Las Vegas- South Beach meets Mojave Desert; Aria And Bodega Catena Zapata Collaborate For Wine Pairing Dinner; Jersey Boys Star For Fourth Annual "NF Hope Concert"; Grand Bazaar Shopping Mall Continues to Take Shape; Vegas Videos You'll Enjoy; Click To Read Now!
Actor Joe P. Harris From New CBS Sitcom The McCarthys Attends ABSINTHE
Actor Joe P. Harris, who can be seen starring in the new CBS sitcom The McCarthys premiering this October, was spotted attending ABSINTHE at Caesars Palace on Friday, September 5, 2014. Following the performance, Harris posed for a photo with ABSINTHE's "Green Fairy" Melody Sweets and shared his enthusiasm for the show. Read More...


Insider Vibe Newsletter Alert - September 3, 2014
In This Issue: September Specials; Mexican Independence Day; Football Viewing Parties; Mermaids thrive on interaction with kids; Clarion, the former Debbie Reynolds hotel, closed; Liberace's home restored; Three Casinos With 3:2 Blackjack Just Off The Vegas Strip; Westgate Is Promising Renovated Rooms By Early 2015; Click To Read Now!
Gear Up For Football Fun At PBR Rock Bar
PBR Rock Bar will welcome the 2014-2015 football season with viewing parties for pigskin enthusiasts starting Thursday, Sept. 4. NFL and NCAA fans alike can stop by the party spot every Monday, Thursday, Saturday and Sunday to catch their favorite team on PBR's 105 HD TVs and four projector screens. Read More...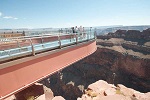 Canyon Celebration Sky High Fun Tour
Man-made wonders and nature's spectacular beauty collide when you visit the Grand Canyon Skywalk. Through this Grand Canyon West Rim Helicopter Tour, witness landmarks that people journey to see from all over the globe. Read More...
Chefs To The Max To Host "Sunday Supper" Kerry Simon's Carson Kitchen
From 6 to 9 p.m. on September 28 at Celebrity Chef Kerry Simon's new Carson Kitchen in Downtown Las Vegas. The mini dine-around will feature a collaboration of neighborhood off-Strip chefs with 100 percent of proceeds going toward the recovery of Max Jacobson, a popular local food writer from Vegas Seven who was critically injured last December. Read More...
New Seasonal Spirits Have Arrived At Fizz In Caesars Palace
FIZZ, the lavish new champagne lounge and bar at Caesars Palace, has debuted new seasonal menu items to complement the warm summer months. Read More...