Women In Gambling Breaking The Glass Ceiling
Women In Gambling Breaking The Glass Ceiling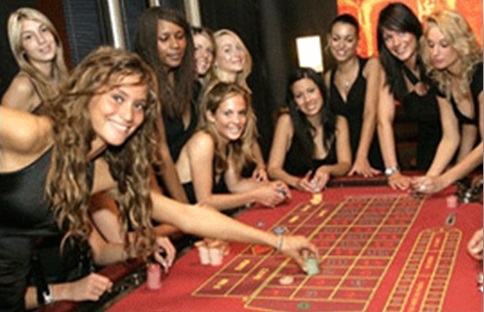 Is The Gaming World Still A Gentleman's Club?
The presence of women in different businesses has definitely increased over the years. The Economist goes as far as calling the economic empowerment of women in the first world one of the greatest revolutions of the past 50 years. And the world of professional gambling certainly reflects this.
While you will see a greater female presence than before in Vegas casinos, a lot of the growth in female gambling can be attributed to the influence of online casinos. Nowadays, there is almost the same number of women playing online as men, and the advent of the Internet has gone a long way to evening the score.
Historical Women In Gambling
Women may have been underrepresented in the front-of-house and behind-the-scenes activities of gambling establishments in the past, but several feisty characters did make inroads into this man's world.
Georgiana Cavendish, the famous 18th-century Duchess of Devonshire, had the serious love of high-rolling card games that so many aristocrats of her day did, and in the 19th-century, Eleanor Dumont made her fortune in the Gold Rush. She moved to Nevada and continued to prosper as she opened and ran her own gambling parlour.
Let's not forget Alice Ivers Duffield Tubbs Huckert, who was better known by her alias of Poker Alice and was a professional gambler in the late 1800's. Poker Alice become one of America's most famous faces, and not only did she spend her money on the latest fashions, she also became an astute businesswoman who invested heavily, and owned several well run brothels!
Ladies In Poker Leading The Way
Women have been extensively dismissed in gambling circles for years because they supposedly lacked the mental acumen to do well. Aside from the fact that this belief is now widely rejected, the fact is that the so-called soft skills of intuition and reading people are so obviously advantageous in Poker games. Women tend to possess these much more than men do, and women also sometimes use the fact that they seem more innocent to bluff successfully in card games. Poker Alice may have set the trend, but today's female Poker stars are also living proof that women can perform just as well as men – or better.
Kathy Liebert, Jennifer Harman, Annette Obrestadt and Annie Duke are just a few of the professional female Poker stars that have enjoyed international acclaim. While the ratio of women to men in a land-based Poker room is still around 1 to 10, this is much better than in the past. Following Poker, women are most strongly represented in Blackjack and Baccarat, also both card games that demand insight.
The Business Side Of Things
Eleanor Dumont was not the only woman to be involved in the running of game houses. Behind the scenes women must deal with the challenges of the old boys' club just as much as they do when front of house, though of course they are more like what is experienced in other businesses here.
Staying tough and making astute business decisions is essential if you want to be a successful casino operator, and women quite clearly have the chops. Back in 1956 Judy Bayley opened the Hacienda in Las Vegas, and Claudine Williams ran several successful casinos for decades.
The pace of women operators and executives in gambling is gathering speed along with everything else. Anyone familiar with the name Wynn will be surprised to know that behind Steve, is a women who quietly helped build the brand. Wynn's 2 time ex wife is now fighting to keep $900 million worth of company stock from the Wynn empire that she, in part, created.
Working Towards Equality
Although women are more represented in professional gambling now than ever before, the ratio of women to men in casinos and at Poker tables is by no means equal. Just as in almost every other business sector, women struggle to negotiate the fact that feminine traits revered in women are the same ones that are considered weaknesses in business.
It's understandable that the first gambling arena in which we see women and men approaching equality is the online one. Women feel less intimidated when they can be anonymous online, and less likely to be dismissed by men as weak females. The increasing significance of women in this sector is reflected in the IGA Women in Gaming Industry Awards, now in their 8th year, which honour women who have made great contributions over the previous year.
Is it possible to be a tough negotiator, an unreadable Poker player, a shrewd proprietor and a tender life partner and mother at the same time? Of course. As the world's perception and acceptance of different gender roles and lifestyles expands, this will hopefully extend to the business of gambling so that more glass ceilings are shattered.