Le Reve Show Tickets and Reservations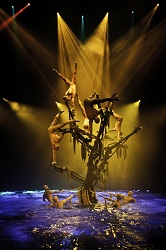 An aquatic spectacular performed in a domed theater in the round, Le Reve Las Vegas. A small collection of imperfect dreams, is the first of its kind in Las Vegas. Uniquely intimate and spectacularly personal, no seat is more than 40 feet from the action. The show is a completely new form of staging and artistic performance, where the theater and water are alive with a translucent energy.
"My aim with Le Reve is to create an entirely new universe, to transport everyone into a world where the theater, performance and audience become one and the same reality," says Franco Dragone, the internationally acclaimed director, whose credits include O, Mystere and Celine Dion: A New Day. A very special cast of artists, athletes and characters has been discovered from around the world and will bring the dreams to life.
Location:
Wynn Las Vegas Hotel and Casino Hotel